Drosos brings brand savvy from P&G to Assurex
Drosos brings brand savvy from P&G to Assurex
When she was president of Procter & Gamble's $6 billion global beauty care division, Gina Drosos oversaw 6,000 employees and more than 20 brands. Drosos spent up to 40 percent of her time traveling far from P&G's Cincinnati headquarters to help sell brands such as Olay, CoverGirl and Old Spice.
Today, Drosos still logs a lot of miles – but not on the corporate jet of P&G, where she worked for 25 years. In August, she became president of Assurex Health, which has 192 workers and just one brand, GeneSight. It was a big departure.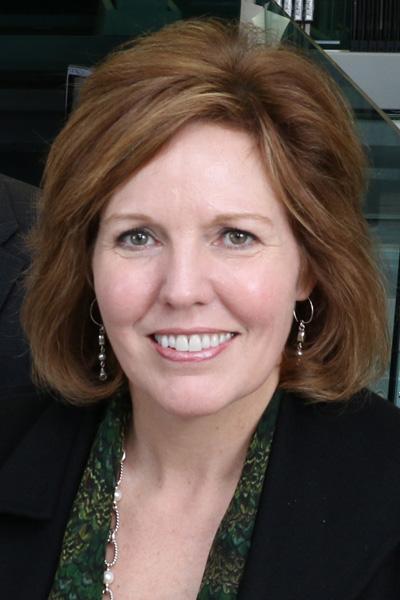 "We fly coach," Drosos said with a laugh.
At Mason-based Assurex, which develops genetic tests to determine the best medications to treat patients with mental disorders, "we don't have the level of resources that P&G does," said Drosos, 51. "We're more hands on."
To say the least. Drosos is writing the press releases and the creative briefs. She's reviewing "every step" of the website construction.
"I lead the sales force, and I lead all of the marketing effort," Drosos said. "We have a marketing team of two."
P&G is one of the world's largest marketers. Assurex is small, with huge ambition. When hired by Jim Burns, CEO of Assurex, Drosos said she was told: "Job one is educating and building awareness – getting the word out about our brand."
GeneSight has the potential to change people's lives – and to become a billion-dollar brand. That's where Drosos comes in.
Bob McDonald, former CEO of Procter & Gamble, describes her as "one of the best brand builders P&G has had."
"If anybody deserves credit for the long-term success of the Olay brand, it would be Gina," McDonald said. "I think she's kind of like a velvet hammer. She gets the job done, but in a kind way."
Drosos said the keys to building a brand are essentially the same regardless of the size of a company.
"I've gone from working at a huge multinational corporation and running a big business to a smaller company," Drosos said. "You might think everything would be different. It's not.
"My whole career at P&G was in an entrepreneurial environment," she said. "I've spent my career growing and scaling businesses and working on highly scientific products that can make a real difference for people."
At Assurex, "the difference we make is profound when people are struggling with a mental health issue and can't get on the right medication," she said. "That's a life changer for them – to then get on the right one."
Drosos spends about 30 percent of her time on the road to promote GeneSight, which analyzes a patient's DNA to reduce the trial and error often involved in determining the best treatment for depression, anxiety, ADHD, bipolar disorder, schizophrenia or chronic pain.
'Incredible values'
McDonald, the former CEO of P&G, said people who work closely with Drosos can't help but notice that her leadership style involves more than prodding subordinates to sell a product.
"She has incredible values, and people know that," McDonald said. "That inspires them. She's beloved."
Drosos said it was her family values and love of Cincinnati that led to her retirement from P&G in 2012.
"The business I was leading was relocating a lot of the management team to Singapore for a number of tax reasons," Drosos said. "I have a sophomore and junior in high school. And we love Cincinnati. So my husband and I decided it wasn't something we wanted to do – to make that move."
'Strategic thinker'
After leaving P&G, Drosos was invited to join the board of Cincinnati-based American Financial Group. Carl Lindner III, co-CEO of the insurance company, describes Drosos as "a great strategic thinker."
"We've gained from her strategic thinking and her knowledge of building brands and businesses," Lindner said. "She definitely should be able to make the switch from consumer goods to health care. It's a real asset to Cincinnati to have her leading one of our successful emerging companies."
Assurex Health was founded in 2006 to commercialize technology licensed from Cincinnati Children's Hospital Medical Center, which has an equity stake. Assurex also has licensed technology from the Mayo Clinic.
Jennifer Dauer, senior vice president for strategy and growth at Cincinnati Children's, worked with Drosos for more than 15 years at P&G.
"She is able to envision the future and energize an organization," Dauer said. "She helps people to see her vision. Where are we going? Why should we care? And, in Procter language, how is this going to touch and improve people's lives?"
Drosos learned about Assurex Health when she volunteered to mentor some of the entrepreneurs associated with CincyTech, a seed-stage venture capital investor. Mike Venerable, who leads digital investments for CincyTech, is on the board of Assurex. He thought she might be a good fit.
"She felt like a leadership person for an early stage company," Venerable said. "A lot of it is you're going to work hard and go through some grinding. You need to embrace that. I also think she sees the potential in the business, which we think is huge."
One in five Americans has a mental health concern. That means the market for the company's tests could exceed 50 million patients in the U.S. alone. Assurex estimates that the North American market for such DNA testing could generate sales of $4 billion annually.
Up to 300,000 new patients are diagnosed with a psychiatric condition every year.
'First movers'
"We're the first movers in a huge market, and we've barely penetrated it," Drosos said. "We'll double the number of people we've tested this year to over 100,000, but still we will have penetrated less than 1 percent of the market."
Drosos brings the ability to understand what motivates consumers. "That ability requires a tremendous amount of empathy," McDonald said.
Drosos said one of the things that drew her to Assurex is the corporate team, which includes scientists, pharmacists and software experts, "is passionate about helping people."
Assurex doesn't have to reveal revenue because it's privately held. However, "we more than doubled (revenue) last year, and we expect to double again this year," said Burns, CEO since 2009.
The number of Assurex employees could more than triple in the next five years, said Burns, who hired Drosos after being introduced to her by Venerable.
"I'm excited about her being here," Burns said. "Gina's background is in beauty, so she knows how to scale businesses and knows how to target information directly to women."
Marketing to the decision makers
That's important, Burns said, because women make up the vast majority of those who discuss mental health medications on Internet sites.
"I've spent so much of my career thinking about how to talk to women through all kinds of marketing and media," Drosos said. "I spent lots of time on digital marketing and social media.
"Those things come in handy here. We believe women are making up to 80 percent of the health care decisions for the family. More and more, we're participating in blog discussions,"she said.
However, Assurex doesn't sell its GeneSight products directly to consumers. Doctors order the tests.
Last year, about 75 percent of the tests were ordered by psychiatrists, Drosos said. The other 25 percent were ordered by pediatricians, primary care physicians, internists, OB/GYNs or doctors for nursing homes.
But if more women ask those doctors about GeneSight tests, that could drive business to Assurex Health.
At P&G, Drosos said, she woke up every morning with the thought: "How am I going to win today versus L'Oréal or Avon or Estée Lauder?"
At Assurex, "our competitive set is not so well-defined, thankfully," Drosos said. Now, she wakes up thinking: "How do we win the hearts and minds of doctors?"
Strong businesses are built on a clear strategy, and "then it's about activating that strategy," she said. "You have to bring it to life.
"The story here is not about me," Drosos said. "I made what I think is a fantastic decision to come to a terrific company. The story is about the company and where we're going."
Brunsman covers Procter & Gamble Co. and health care.
Source: https://www.bizjournals.com/cincinnati/print-edition/2014/04/25/drosos-brings-brand-savvy-from-p-g-to-assurex.html